MOV is the native format of QuickTime network which means it can be easily opened by any Apple software. Plus, some of the media players like RealPlayer or Windows Media Player support videos in MOV format. If you for some reason want to convert MP4 to MOV, you'll need a program that will do it fast – even if it is a large file.
Movavi Video Converter is up for the job. It will help you to change the format of any media file whether it is a video, an audio track or an image.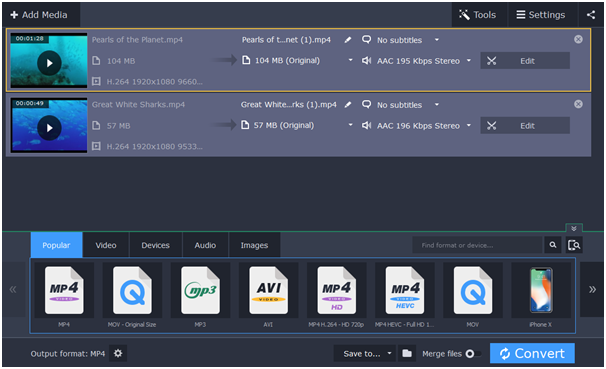 The program doesn't limit you to the number of files you can upload. Thanks to the smart algorithm the processor cores are loaded as efficient as possible that allows simultaneous conversion of multiple files.
MP4 was developed on the base of MOV, so they are practically identical and can even be interchangeable in the QuickTime environment. They also share a codec – H.264 – and this is important for a certain reason.
If the input and output codec coincide and the video resolution stays the same, you can use the SuperSpeed mode. It is a method of conversion that doesn't reencode the video stream. This lets you convert large files really quickly (up to 79 times faster than typical conversion) without quality loss.
However, if you enhance the video in some way in the built-in editor – stabilize, adjust colors, add subtitles or a watermark, crop or rotate it – you won't be able to use the SuperSpeed any longer. Depending on your video card, Intel hardware acceleration or NVIDIA technologies will be used instead. It makes the conversion speed increase up to 6 times.
As you can see, Movavi Video Converter supports a great range of formats: MP4, MOV, AVI, MKV, MP3, FLAC, OGG, JPEG, GIF, and more. You can work with 4K movies, scale up videos to HD and Full HD, or compress them. The software also enables you to extract audio from videos and create GIFs.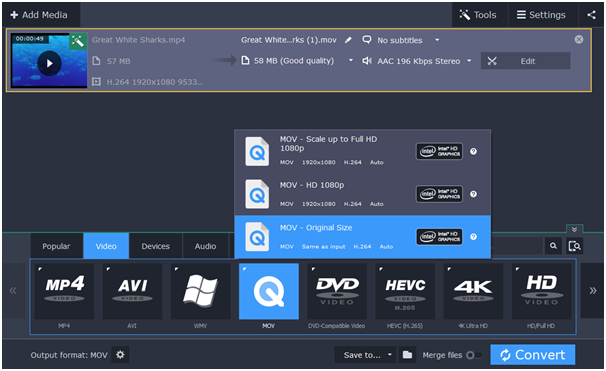 Here are some of the extra features that make Movavi Video Converter one of the best tools to convert your files:
Two-pass encoding ensures optimal balance between size and quality of the output file.
Watch Folder automatizes the conversion: choose a folder to monitor and all the files will be converted as soon as you put them there.
Automatic volume detection helps you to identify files with low volume and fix them.
Device detection chooses the best conversion settings for viewing videos after you connect your smartphone to the computer.
With the help of Movavi, you can easily convert MOV to MP4, or vice versa. The list of the available formats and supported devices grows with every update, so you will be able to convert between almost all existing formats.